What is a Raymond mill?
Raymond mill is a widely used mill machine for grinding coarse material into powder with different granularity. Its applications suit for many areas such as mining industry, gravel and quarry industry, chemical industry and construction waste recycling industry, and it can grind over 280 materials with Moh's hardness below 9.3 and humidity below 6%.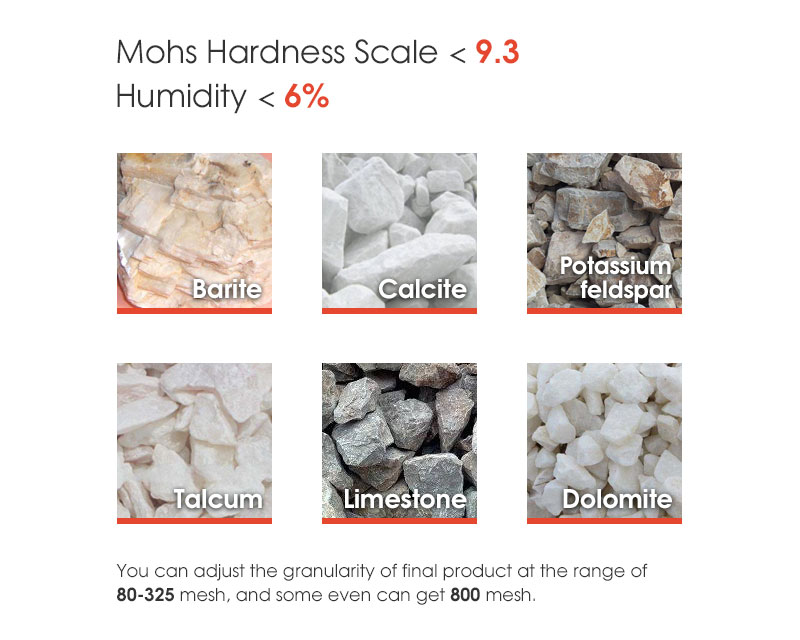 what matrials can be processed by raymond mill
The structures and important parts
The structures design of Raymond grinding mill
Raymond mill actually can be divided into two types of machines processing different materials. One is called Raymond vertical mill and the other is Raymond roller mill. The difference between them is that vertical grinding mill belongs to high-speed air swept swing hammer mill while the other belongs to air-swept vertical ring-roll mill.
The main structures:
The main body consists of a frame, an air inlet volute, scraper blade, star rack, a grinding roller, a grinding ring, air classifier, etc.
If you decide to purchase a raymond roller machine, please click: Get Latest Price
Important parts and their functions
Auxiliary speed reducer
It is mainly used to reduce the speed of the rotating motor.
Grinding roller (grinding ring)
There are two grinding rollers directly contacting with material for grinding process.
Draught fan
The function of the part is to below and discharge the fine powder
Separator
It is used to classy the ground powder, and greatly influences the final powder granularity.
Raymond mill plant working principle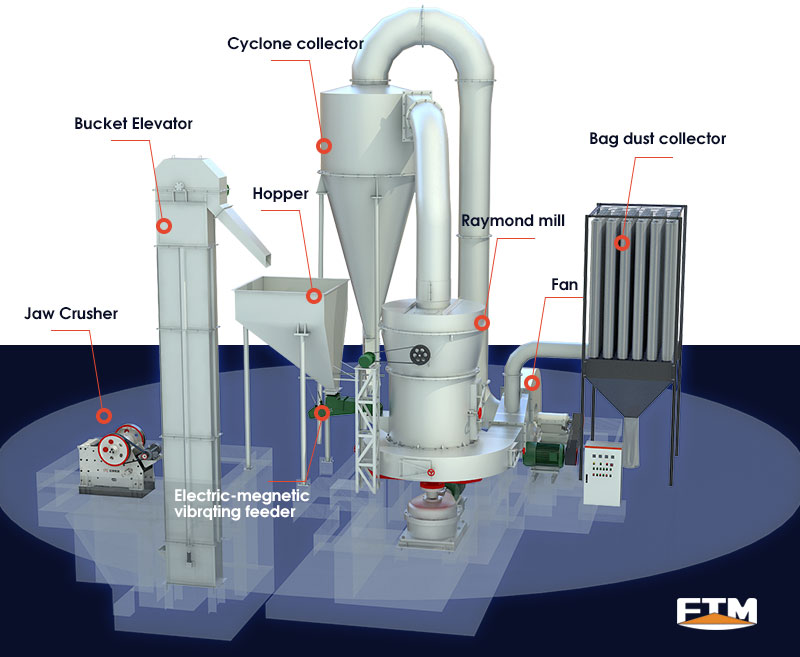 low consumption and environmental protection
Step 1The jaw crusher crushes large pieces of material into smaller particles within the feed size of the Raymond roller mill. The crushed materials, after passing through the bucket elevator, are sent into the storage hopper and vibrating feeder for being evenly and continuously ground in the main crushing chamber.
Step 2The grinding roller constantly presses the grinding ring under the centrifugal force, which can grind the material scooped up by the scraper blade into powder.
Step 3Then the power through wind pipe enters the powder collector for separating. The desired final powder product will be discharged from the discharging port while there would be another grinding for the undsired powder until it meets standard.
Step 4During the discharging process, it will be accompanied by fine dust which will be collected by the dust collector.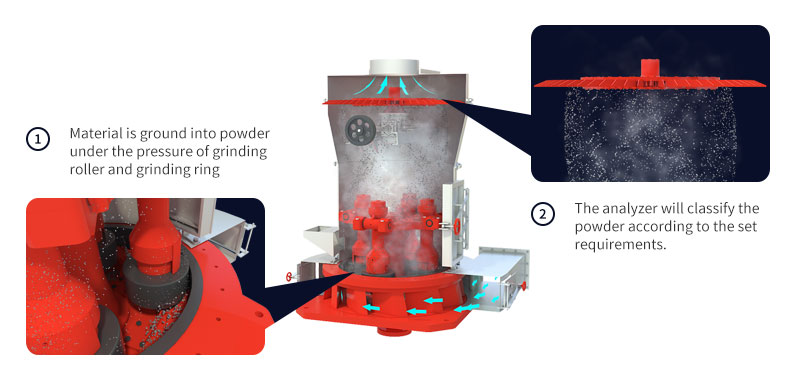 Raymond mill inside structures
Raymond mill's outstanding advantages
Small footprint
Raymond mill uses the design of the vertical structure with less occupied-place and a systematic working style. The whole process from coarse crushing, transportation, grinding to final packaging is an independent production system.
High pass rate
The final powder fitness is even with a 99% pass rate, which can't be realized by other grinding equipment.
Reliable operation
The transmission device adopts a sealed gearbox and belt wheel design with smooth transmission and reliable operation.
Better wear resistance
The important parts of Raymond mill are made of high-quality steel, the wearing parts are made of high-performance wear-resistant materials, and the complete machine is of better wear-resistance.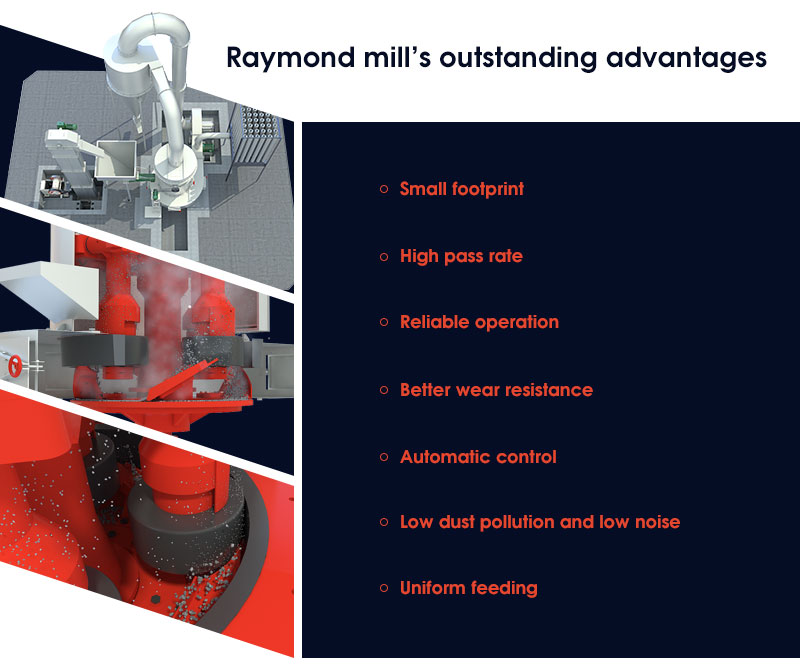 Fote raymond mill can greatly improve efficiency
Automatic control
The electrical system adopts centralized control, and the grinding workshop can basically achieve unmanned efforts.
Low dust pollution and low noise
Because of the improvement of working principle, Raymond mill has lower noise and less pollution.
Uniform feeding
With the electric-magnetic vibrating feeder to convey the materials, the Raymond mill has the features of even feeding, small size, low weight, fuel and power saving, easy adjustment.
Why Fote Raymond mill is your best choice?
Upgrade important parts on the basis on traditional design
shockproof device design
According to the original shockproof capacity of the Raymond mill equipment and its surrounding shake parameters, Fote experts upgraded a new shockproof material. During the searching process, they made the device by means of dynamic analysis of diaphragm-designed structures and theory of structural dynamics. What's more, it is a good solution to the problem of over-larger vibration only with a smaller power.
Host design
They adopt the integral base of the host which makes the machine structure solid, reliable and strong seismic resistant. The design perfectly avoids the cracking or damage of components caused by long-time vibration and fatigue of framework and air return box.
Upgrade on grinding roller
The grinding roller and its shaft can complement each other, which means that the roller cannot only revolve but rotating. The part is engineered to improve the machine's efficiency and durability even under greater grinding force and higher operating speed.
Unique design of dust collector
A full pulse dust collector to collect the finished powder products, running under negative pressure without dust leakage, and more environmentally friendly.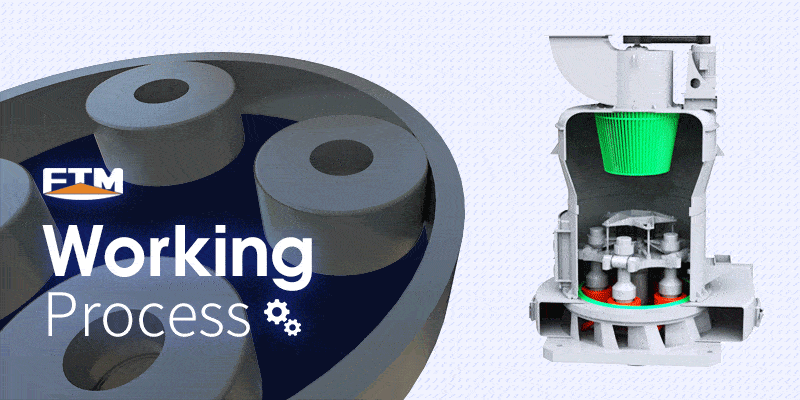 how dose Raymond mill roller work
The design of whole system
In the design of the whole system, Fote has changed the traditional two-stage collection to four-stage collection. The primary and secondary collections are collected by circulating negative pressure and there is no dust leakage. The third and fourth-level collections use controllable-overflow dry and wet collection to prevent dust overflow.
Over 35 years of research and manufacturing experience
Fote Heavy Machinery, as one of the leading manufacturers of grinding equipment for more than 35 years produces and sales many kinds of Raymond mills and components for a variety of industries including cement, concrete, mineral aggregates and power generation all over the world.
Our Raymond grinding mills and related components can be inspected in our 35 thousand-square-foot facility located in Zhengzhou, Henan Province, China. Our equipment is finished and ready to ship whether you are expanding capacity or in an unexpected emergency situation.
Besides, compared to other manufacturers, Fote can provide the lowest price due to direct sale to our customers without distributor.
Successful customers' cases
Raymond mill processing gypsum in India
Raymond mill is often used to grind a variety of non-metallic ores into superfine powders, especially for processing gypsum.
India is a country with abundant gypsum resources, India is important to the gypsum reserves and production. Many Indian customers found us and requested us for grinding production projects, especially for grinding gypsum powder.
In March 2019, an Indian customer contacted us to process ultra-fine gypsum powder, hoping to use it in production as soon as possible. After an on-the-spot investigation, our engineer introduced him with a gypsum production line that integrated feeding, crushing, grinding and dust collection.
The project of the specific gypsum production line:
The following is the specific production line:
Output: 10-15 t/h
Finished particle size: 80 mesh-340 mesh (0.173 mm-0.044 mm)
Raw material: Gypsum
Raw material hardness: soft
Feeding size: ≤100 mm
Production line type: fixed
Purchasing equipment: PE-250 × 400 jaw crusher, 4525 Raymond mill, vibrating screen, conveyor, dust collector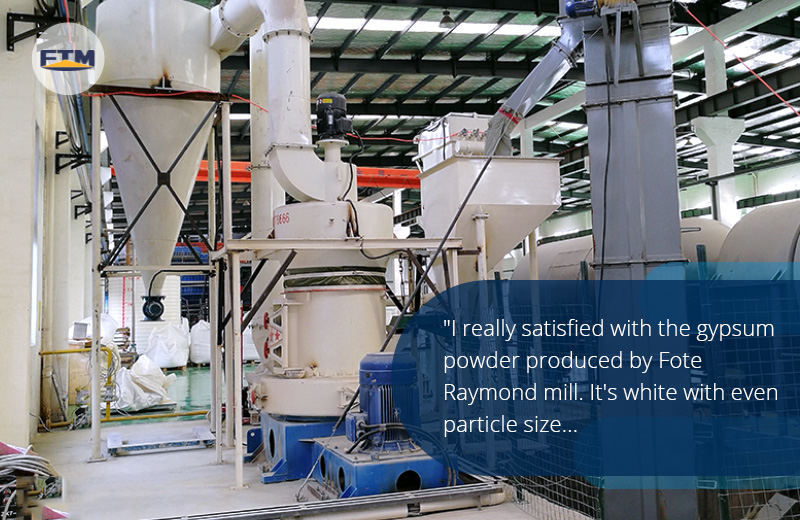 gypsum with white color and even particle size
customer feedback
"I really satisfied with the gypsum powder produced by Fote Raymond mill. It's white with even particle size. I'm a gypsum powder supplier, and committed to selling the high-quality product to my clients, so I have really high requirement on fine powder."
10-15 TPH gypsum powder grinding process Yes! I'm interested
Coal slag grinding in Thailand
Output: 300 kiloton/annually
Finished particle size: 360 mesh( 0.04 mm)
Raw material: ore slag
Raw material hardness: soft
Feeding size: ≤100 mm
Production line type: fixed
Purchasing equipment: PE-250 × 400 jaw crusher, 4525 Raymond mill, vibrating screen, conveyor, dust collector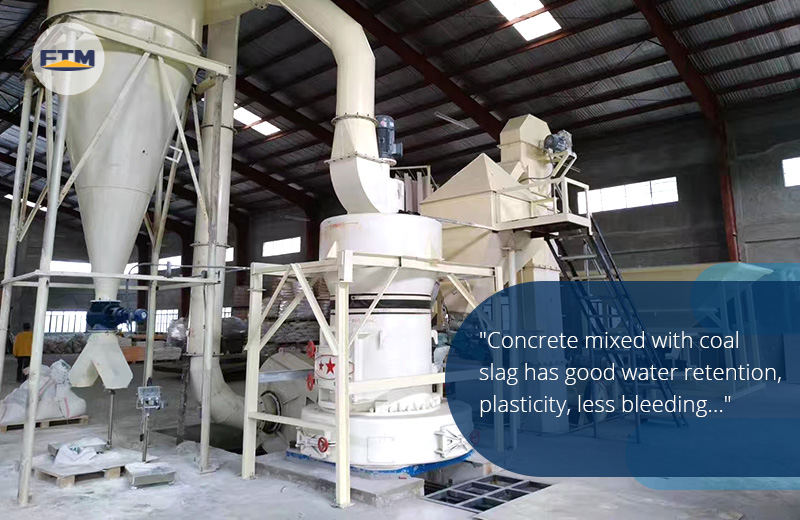 low consumption and environmental protection
customer feedback
"Concrete mixed with coal slag has good water retention, plasticity, less bleeding, which means only high-quality product can bring me more money, and this Raymond grinding line did make me get considerable profit."
300 kiloton/annually coal slag grinding plant Yes! I'm interested
Quartz stone grinding site on Pakistan
Output: 300 t/h
Finished particle size: 400 ( 0.038 mm)
Raw material: Quartz stone
Raw material hardness: hard
Feeding size: ≤25 mm
Production line type: fixed
Purchasing equipment: CJ 96jaw crusher, 4119 Raymond mill, vibrating screen, conveyor, dust collector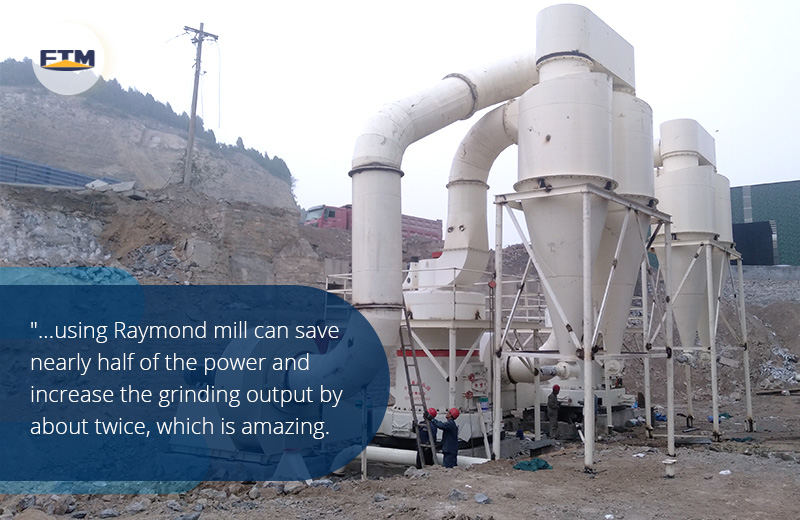 raliable operation and smooth running
customer feedback
"When the fineness and output of quartz stone are the same to all machines, using Raymond mill can save nearly half of the power and increase the grinding output by about twice, which is amazing."
300 t/h quartz stone grinding solution Yes! I'm interested
What are the similarities and differences between Raymond mill and ball mill?
For the mineral processing, the most common grinding machines are Raymond mill and ball mill. So, what are the similarities and differences between the two?
Similarities
They are both the main equipment for grinding powder.
Both can be used for dry processing.
Both can be used for grinding non-metallic minerals.
The differences between Raymond and ball mill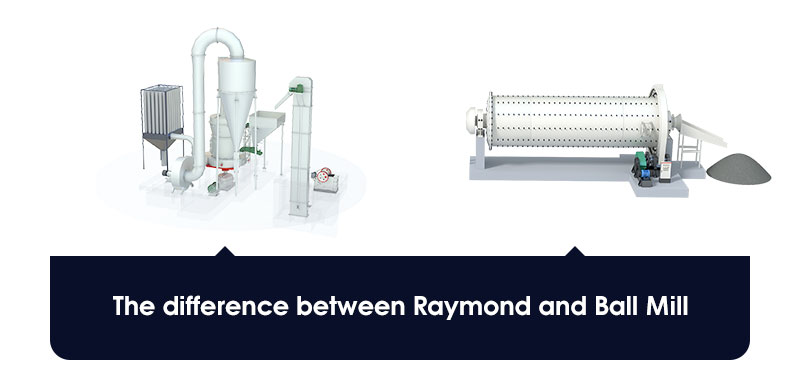 The differences between Raymond and ball mill
Processing different materials
Raymond mill is suitable for processing non-metallic materials that are not too hard, such as limestone, gypsum, calcium carbonate; ball mills can process metal materials and hard materials such as potassium feldspar, quartz, metal ores, etc.
Processing method
Raymond mill can only be used for dry grinding, which has a requirement of the material on the humidity; the ball mill can be used for wet grinding, so there is no limit to the materials on the humidity.
Different Output
The maximum output of Raymond mill is only 20-30 tons per hour, while the output of ball mill is between 0.65 tons and 615 tons per hour.
Discharging granularity
Raymond mill has a uniform particle size and does not need other equipment for screening; ball mill has an uneven discharge, so the finished powder needs to be sieved by powder separator.
Grinding fineness
Raymond mill can process a finer powder and produce even product with the fineness 800 mesh while the ball mill can only reach 400 mesh.
Matters need attention when using a Raymond mill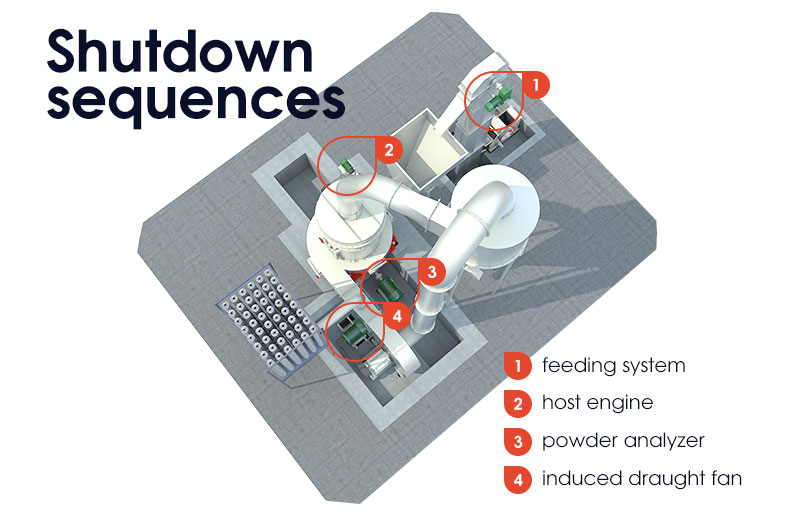 4 points to notice when using a Raymond mill
1

During the working process, Raymond mill should be supervised by professionals, and the operators should be trained systematically before production operations. And Raymond mill should work under its maximum load in grinding.

2

According to the feeding characteristics, adjust the discharge control of the machine to meet the production requirements before starting the machine.

3

Timely maintenance. The machine should be inspected and maintained regularly to ensure that all parts of the machine work normally.

4

If the machine makes abnormal noise while working or the load of the machine suddenly increases, stop and check immediately to eliminate the fault to avoid the secondary damage. Before turning on the machine again, the residual material inside the mill must be taken out to avoid excessive current affecting startup.

5

Shutdown sequentially. When the grinding is finished, stop feeding and let the main engine continue to run firstly. Next, stop the host engine and the analyzer motor after the material in the host is completely discharged. Finally, stop the fan after the fan blows away the powder remaining in the host.
Parameter
Parameter
Model
Raymond mill62
High strength66
High strength76
High strength87
High strength92
High strength93
High strength97
Raymond mill4119
Raymond mill4525
Feeding
size(mm)
<15
<15
<20
<25
<25
<25
<25
≤25
≤30
Size of finished
product(mm)
0.173-0.033
0.173-0.033
0.173-0.033
0.173-0.033
0.173-0.033
0.173-0.033
0.173-0.033
0.173-0.044
0.173-0.044
Shift output of
different material
fineness(t)
0.6-9
1-20
1.5-25
2.8-33
3-36
3.5-40
4-52
8-78
16-176
Rotate speed
of central
shart(r/min)
274
190
170
161
148
140
130
105
82
Diameter of
pulverizing
ring(mm)
525
725
850
907.5
973
1006
1050
1400
1770
Diameter of
pulverizing
ring(mm)
150
210
250
270
300
300
310
410
450
Height of
pulverizing
roller(mm)
100
150
150
150
160
160
170
190
250
Main Motor(kw)
7.5
15
18.5
22
30
30
37
75
132
Fan Motor
4-5.5
4-11
4-15
4-18.5
4-22
2-22
4-37
4-75
4-132
Analyzer Motor
6-1.1
6-2.2
6-2.2
6-2.2
6-2.2
6-3
4A-5.5
4B-7.5
4A-18.5
Parameter

Model

Feeding
size(mm)
Size of finished
product(mm)
High-strength97
<25
0.173-0.033
High-strength93
<25
0.173-0.033
High-strength92
<25
0.173-0.033
High-strength87
<25
0.173-0.033
High-strength76
<20
0.173-0.033
High-strength66
<15
0.173-0.033
High-strength62
<15
0.173-0.033
Raymond mill4119
≤25
0.173-0.044
Raymond mill4525
≤30
0.173-0.044